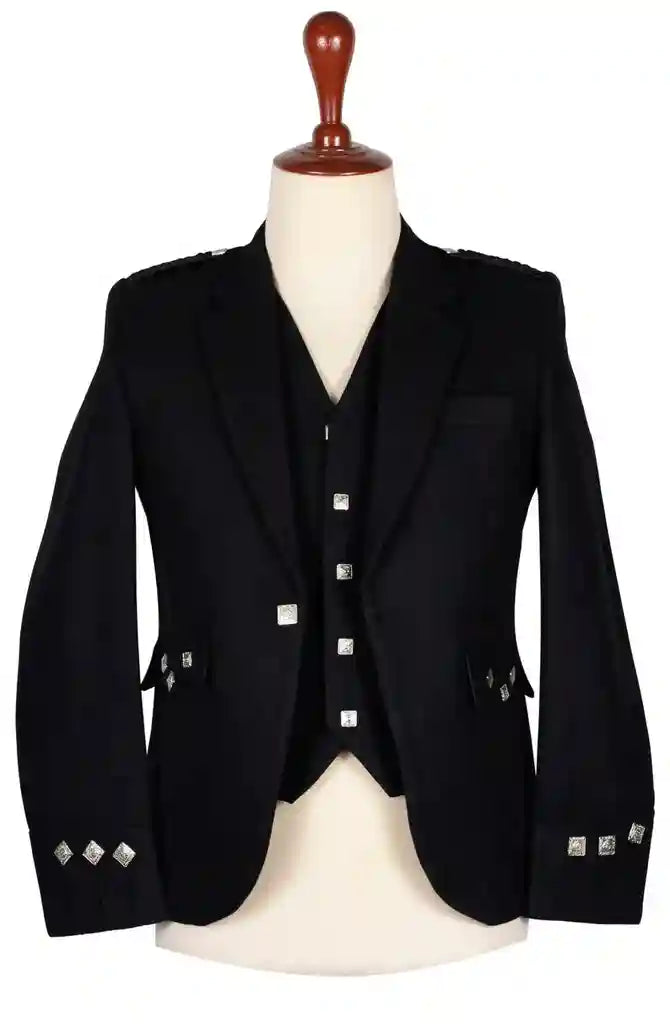 Scottish Black Argyll Kilt Jacket and Vest - Prince Charlie Jacket
Details
100% Genuine Wool Argyll Kilt Jacket and Waistcoat / Vest -  Scottish Black Argyll Jacket
What you should know about 'Argyll Kilt Jacket'?
Type: Formalwear.
Gender: Male
Pieces: Tweed Argyll Kilt Jacket and Waistcoat.
Pattern: Argyll
Color: Black (for both, jacket and waistcoat)
Jacket Specifications: Flat shoulder epaulets, staghorn buttons, gauntlet cuffs.
Waistcoat specifications: 5 matching buttons.
Tips to Order Black Argyll Jacket with Accurate Measurement
Always order Argyll Jacket 1 - 2 inches LARGER for better movement and comfort
For Instance:
Order a jacket of 42 inches if your chest size is 40 inches. If you're 38 inches exactly, order a size 40.
Always measure TWICE
Be sure with your measurements by taking your size twice. This surely will save you time and money. If you are not sure about self-measuring, get help from a tailor.
Happy Shopping From Us!