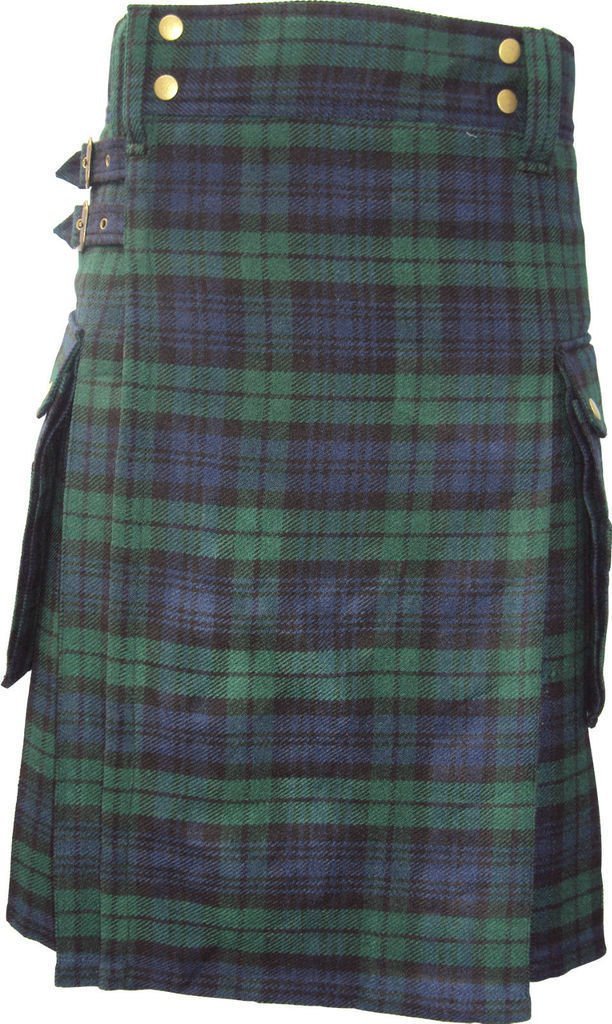 Scottish Modern Black Watch Tartan Utility Fashion Pocket Active Men Kilt
Details
New Kilt Scottish Modern McDonald Tartan Utility Fashion Pocket Active Men
Material Used : 12 Oz Acrylic Wool

Style : Modern Pocket.
Size Available : 30" to 50" are available in stock 24/7.
Size Note : Please measure your place carefully where you want to fit the kilt, don't just give us your pant or trouser waist size. It is recommended to measure your place with a 2.5" wide kilt belt, on or above your naval.

Length/Drop : Normally the standard drop down is 24", but if you want to increase or decrease the it according to your requirement you can do so without paying any extra charges. Butt please keep in mind, the customised kilt would not be eligible for return or replace
Pleats : Pleats are well sewed for a full swing beauty and great comfort and relax ability.
Belt Loops : Same fabric belt loops are used to strengthen the grip of kilt belt and fitting.
Buckles : 2 rust free material buckles are used to increase the life of kilt for long lasting used and fitting.

Fittings : Fitting is fixed due to style of the kilt i.e. a 34" kilt could be fit to 34" only.
Lining : No Lining is used in this style to lighten the kilt & easy movement
Press : The pleats must be pressed keep a dumped cloth for long life use.
Pockets : 2 Side Cargo Pockets are attached to make the kilt as a greater utility and wearable without a sporran. 1 Back Pocket increase the impression.
Kilt Belt : A 2.5" wide same Fabric Stiffed belt is used for fitting.
Buttons : All the buttons/studs are used from the rust free metal as brass for making life of the kilt longer.