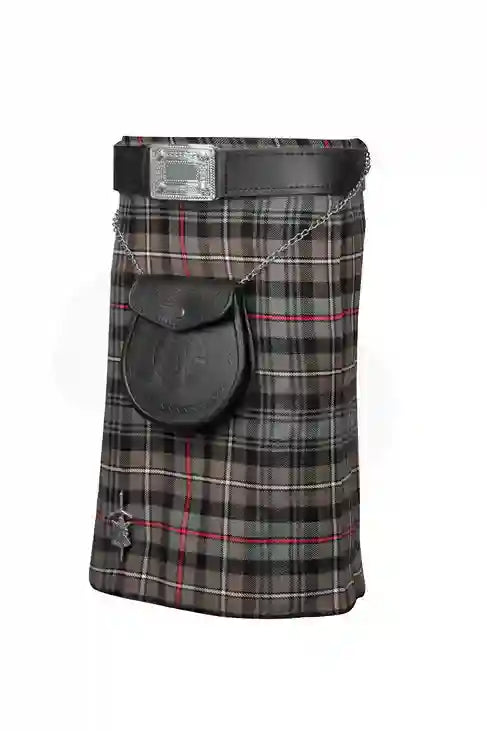 Scottish Black Watch Weathered Highland Dress Tartan Men's Kilt Traditional Highland, Kilt + Celtic Sporran + Chain+Belt+Buckle+Pin
Details
Scottish Men's Kilt Traditional Highland Dress Tartan Kilt


Item Description :

Kilt Package:

This listing is for a 6 pieces kilt package

· Kilt Size: 30"-32", 34"-36", 38"-40", 42"-44", 46"- 48" 50''.



1 - Kilt

· Ideal for any formal or informal occasion.

· Made from fine quality heavy and durable Acrylic Wool.

· Pure cotton lining for maximum comfort.

· Pleated to the sett.

· Each size has a regular 24" (61cm) drop.

· Three real leather straps allow the kilt to be adjusted by 2.5".

· Machine washable.


2 -Lion Rampant Sporran

· Casual Sporran perfect for day and casual wear.

· Made from the finest real leather and fixings.

· Featuring colour protected fixings and finished

· This elegant design is made using only the finest materials.

· At full size this will easily carry a wallet, mobile, lighter etc.



3 - Chain

· Sporran Chain that will fit waist sizes from 30"- 50"



4 - Belt

· Simple and elegant design suitable for any occasion.

· Belt is made from 100% real leather with stainless steel catch.



5 - Buckle

· Buckle is made from a durable high finish material.



6 - Kilt Pin

· Traditional St,Andrews kilt pin made from Stainless Steel.



HOW TO MEASURE A KILT

Measure Around the 'Waist': The simple, but little known technique is to measure 1-2 inches ABOVE THE NAVEL.

Order smaller: If you're 36.5 inches around your waist, order a 36. If you're 35.5" exactly, order a size 34. As kilts sit at your belly, your belly has a tendency towards elasticity and you're best ordering a tighter fit than a looser one.


Not the same size as your trousers: The kilt is meant to trim your middle and enhance your shape by cinching your midsection. Often, your waist will be larger or smaller than your trousers.