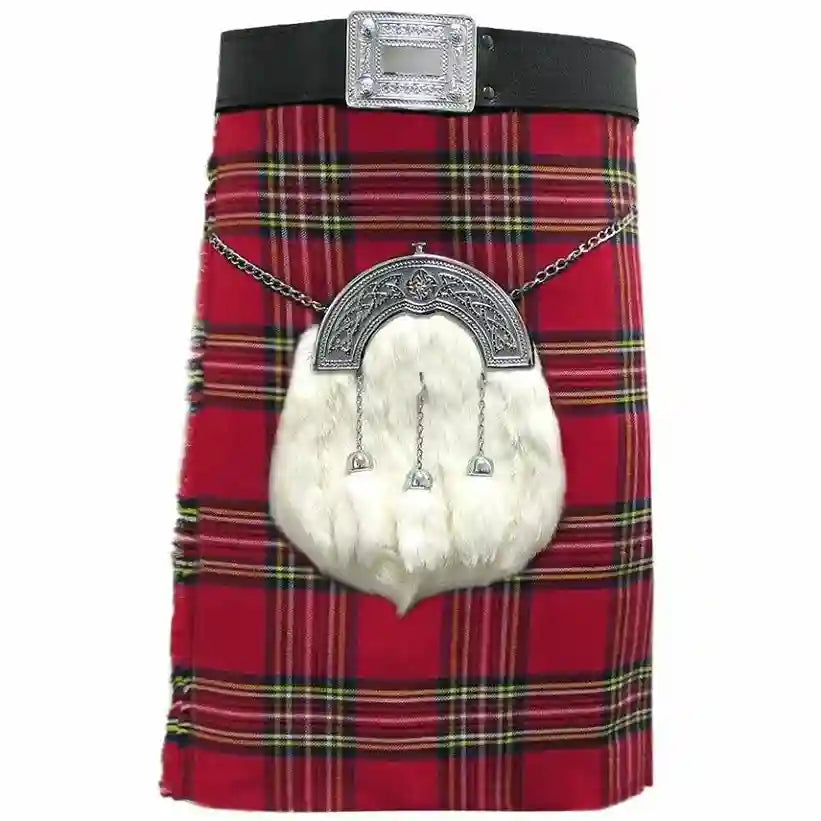 Scottish Men's Kilt Outfits Professional 8 Yard Tartan Traditional Highland Dress Tartan Kilt Set.
Details
Scottish Men's Kilt Professional 8 Yard Tartan Traditional Highland Dress Tartan Kilts Warm 16oz Kilts length 24"
1 - Kilt
5 Yards of soft, Warm 16 oz.
The Kilt's Inner lining protects quality and ensures comfort.
Machine Washable Kilts.
The Kilts has a Pleated back and is Flat across the front.
80% Acrylic & 20% Wool.
3 adjustable Leather straps allowing 2 Inches of Adjustment.
Kilts length 24" for all the sizes.
Cotton lining provides extra comfort.
16 oz to 24 oz Weight of the kilts depending on the size.
Casual Kilts Can be used for both formal & informal occasion.
2 - Sporran

· Casual Sporran perfect for day and casual wear.

· Made from the finest real leather and fixings.

· This elegant design is made using only the finest materials.

· At full size this will easily carry a wallet, mobile, lighter etc.




3 - Chain
· Sporran Chain that will fit waist sizes from 30"- 48"




4 - Belt

· Simple and elegant design suitable for any occasion.

· Belt is made from 100% real leather with stainless steel catch.




5 - Buckle

· Buckle is made from a durable high finish material.

· Other buckles available upon request.





6 - Kilt Pin

· Traditional kilt pin.

· Other kilt pins available upon request.


HOW TO MEASURE A KILT


HOW TO MEASURE A KILT
It's easiest to have someone measure you
Stand straight up and relax
Measure at points shown without holding your breath
Ensure measurement is not taken over thick clothing
Tape measure should be snug but not too tight
All measurements measurement's in inches
Kilt measurement is not the same as your trouser / pant waist measurement.
 We are unable to offer a refund or exchange on made to measure items, unless they are faulty as it is unlikely that we will be able to sell a made to measure item to another customer. Ensure your measurements are accurate re-measure at least twice! If possible get a tailor or seamstress to measure you up.